Borrowing resources
What to look for when borrowing money. borrowing to purchase an asset that will grow in value.
In a study conducted by the Consumer Financial Protection Bureau, the combination of a lack of a savings buffer, low credit availability, and debt can make consumers especially vulnerable. Although a savings buffer can help consumers weather financial emergencies from individual shocks like a sudden car repair or larger-scale shocks like a pandemic or natural disaster, this analysis also highlights that even consumers with some savings may struggle to meet financial obligations and goals. Savings is just one strategy. While consumers with even small amounts of savings are better able to weather financial shocks, our findings suggest it should be coupled with strategies that address other elements of a consumer's financial condition.  Their credit health (e.g., credit scores), debt level, as well as their income. Appreciating the complexity of consumers' financial lives, including how they juggle their day to day finances and plan for the future, all while attempting to withstand unexpected financial shocks, can help policymakers, financial coaches, and other practitioners guide consumers toward improved personal finances and overall financial well-being.
 Consumer Financial Protection Bureau Report: "Emergency Savings & Financial Security" (Part 1 of 7). (2022, March 23). Targeted News Service (USA).
YOUR CREDIT REPORT
What is a credit report?
Your credit report is a summary of your credit history. It lists:
your name, address, and Social Security number
your credit cards
your loans
how much money you owe
if you pay your bills on time or late
YOUR CAR LOAN
What is a car title loan?
A car title loan is a loan for a small amount of money and for a short time.
To get a car title loan, you give the lender the title to your vehicle – for example, your car, truck or motorcycle. You also pay the lender a fee to borrow the money. You usually have to repay the loan in 30 days.
Car title loans can be very expensive. If you cannot repay the money you owe, the lender can take your vehicle.
CAR LOANS AT EATON FAMILY CREDIT UNION ARE A BETTER OPTION…GET STARTED WITH THIS LINK.
MANAGE YOUR DEBT
What is debt?
When you owe money to someone, you are in debt. Owing money is not always bad.
You might have a loan. You might use a credit card. If you do, you might be in debt. 
But if you pay your bills when they are due, it might help your credit history.
When is debt bad?
Debt is bad when you owe money you cannot pay back. Debt collectors might call you. You might have legal problems if you cannot pay back the money.
Does debt hurt my credit history?
Sometimes, debt can hurt your credit history. For example:
owing a lot of money on credit cards
paying bills late
not paying the minimum amount due
skipping payments
These things can hurt your credit history.
Source link www.consumer.gov
Created by the U.S. Congress in 1970, the National Credit Union Administration is an independent federal agency that insures deposits at federally insured credit unions, protects the members who own credit unions, and charters and regulates federal credit unions. 
The Consumer Financial Protection Bureau is a U.S. government agency dedicated to making sure consumers of financial services are treated fairly by banks, lenders and other financial institutions.
The St. Louis Fed is one of 12 Federal Reserve banks is an operating arm of the Federal Reserve System. The banks carry out various functions, including operating a nationwide payment system, distributing the nation's currency and coin, supervising and regulating member banks and bank holding companies, and serving as the banker for the U.S. Treasury. The Federal Reserve banks are located in Boston, New York City, Philadelphia, Cleveland, Richmond, Atlanta, Chicago, St. Louis, Minneapolis, Kansas City, Dallas and San Francisco.
America Saves, a campaign managed by the nonprofit Consumer Federation of America, motivates, encourages, and supports low- to moderate-income households to save money, reduce debt, and build wealth. The research-based campaign uses the principles of behavioral economics and social marketing to change behavior. Non‐profit, government, and corporate groups participate in America Saves nationally and through local, regional, and statewide campaigns around the country. America Saves encourages individuals to take the America Saves pledge and organizations to promote savings year-round and during America Saves Week.
Still Have Questions?
Don't hesitate to reach out to us anytime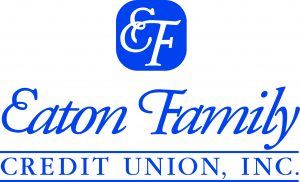 Address
333 Babbitt Road
Euclid, Ohio  44123
Email
Member@eatonfamilycu.com