Saving and Investments
Saving to build wealth
Build a saving plan to take advantage of  time value of money.  Build a emergency savings account for unexpected expenses.  Build wealth for Retirement.
The Federal Reserve Board of San Francisco (2005) reported that U.S. households are less savings-oriented and more consumption-oriented than they were in the past. Americans have had a negative savings rate and older Americans have insufficient savings for retirement. The decline in personal savings rates raises concerns about consumers having sufficient resources to maintain their desired lifestyle in retirement
(Mandell and Klein, 2009).
Some people tend to be very thrifty, saving money whenever they have the chance, while others are very spending-oriented, buying whenever they can and even borrowing to consume more. How would you classify yourself?
1. Very thrifty, saving money whenever I can
2. Somewhat thrifty, often saving money
3. Neither thrifty nor spending-oriented
4. Somewhat spending-oriented, seldom saving money
5. Very spending-oriented, hardly ever saving money
Source: America Saves
If you have little to no savings, you'll want to start saving for emergencies.
If you have emergency savings, you may want to start saving for a home, retirement, or education.
There's ALWAYS something to save for, but if you aren't naturally "good" at savings, the idea of saving money can be daunting.
It could feel like a burden. Or like you're giving up something concrete for something more elusive.
The truth is that we can ALL be great at savings! You have to start small, think big, and create a reasonable plan and recognize where you are in your journey.
In fact, we've learned that there are SEVEN key phases or steps to starting your savings journey and being successful.
7 STEPS TO START YOUR SAVINGS JOURNEY
STEP 1. COMMIT TO ESTABLISHING EMERGENCY SAVINGS
Unexpected emergencies often sabotage our financial goals, so getting in a savings mindset and building an emergency fund is crucial. Start small and think big by setting a goal of a $500 rainy day fund. Once you've reached that goal, it will be easy to continue!
STEP 2. TAKE THE AMERICA SAVES PLEDGE
Now that you're committed to saving, it's time to consider how you'll achieve it. The America Saves Pledge is a tool that helps you make a simple plan to meet your savings goal while offering you long-term accountability and support along the way.
STEP 3. OPEN YOUR SAVINGS ACCOUNT
If you don't have a savings account, now's the time! Savings accounts at Eaton Family Credit Union are Federally Insured up to $250,000.  The minimum balance to open an account is $5.  The account has no fees and earns a dividend once the balance reaches $250.  You can open our Membership account online today. Open an Account today.
STEP 4. SET UP AUTOMATIC SAVINGS
The easiest way to save is to save automatically! Contact your employer to set up a direct deposit into your savings account each pay period or set up an automatic transfer from your checking account to your savings account at Eaton Family Credit Union.  Direct deposit Form. Or we can setup an ACH to move the money her from another account.
STEP 5. GET SERIOUS ABOUT REDUCING YOUR DEBT
When you reduce your debt, you save on interest and fees while maintaining or improving your credit score! Create a debt reduction plan that works best for you. Utilize America Saves resources to see the different options to pay down debt.
STEP 6. GET CLEAR ON YOUR FINANCES
Create a Spending and Savings Plan that allows you to see your income, expenses, and anything leftover easily. Once you have a clear view of your finances, you can determine where to make changes and what else you should be saving for based on your financial goals.
One thing to consider when getting clear on your finances is to speak with a qualified financial professional. Since the onset of Covid-19, there are several resources available where the cost is currently waived.
STEP 7. REPLEDGE FOR ACCOUNTABILITY & SUPPORT
Once you've determined what other short-term and long-term savings goals you have, take the America Saves pledge for a new category to continue the receive tips, support, reminders, and tools to help you achieve your new savings goals.
OTHER IMPORTANT THINGS TO NOTE
Somewhere along the way, talking about your finances became taboo. However, studies have shown that people who talk about their finances with others they trust are more successful at saving. That doesn't mean to take financial advice from everyone explicitly, but talking about your goals definitely helps.
Another exercise you can do to support your new savings journey is to create a self-tracking tool. Put your savings goal somewhere visible, where you'll see it often. Visually seeing your goals gives you constant triggers that help you not only stay on track and but to review your progress, as well.
Speaking of putting your goals in a place you'll see them, feel free to download and print the "7 Steps to Start Your Savings Journey"  from the America Saves Program and put it in a place where you'll see it often.
Congratulations on your new savings journey! The team here at Eaton Family Creidt Union is here to support, encourage, and help you with accountability.
Source: America Saves
Created by the U.S. Congress in 1970, the National Credit Union Administration is an independent federal agency that insures deposits at federally insured credit unions, protects the members who own credit unions, and charters and regulates federal credit unions. 
The Consumer Financial Protection Bureau is a U.S. government agency dedicated to making sure consumers of financial services are treated fairly by banks, lenders and other financial institutions.
The St. Louis Fed is one of 12 Federal Reserve banks is an operating arm of the Federal Reserve System. The banks carry out various functions, including operating a nationwide payment system, distributing the nation's currency and coin, supervising and regulating member banks and bank holding companies, and serving as the banker for the U.S. Treasury. The Federal Reserve banks are located in Boston, New York City, Philadelphia, Cleveland, Richmond, Atlanta, Chicago, St. Louis, Minneapolis, Kansas City, Dallas and San Francisco.
America Saves, a campaign managed by the nonprofit Consumer Federation of America, motivates, encourages, and supports low- to moderate-income households to save money, reduce debt, and build wealth. The research-based campaign uses the principles of behavioral economics and social marketing to change behavior. Non‐profit, government, and corporate groups participate in America Saves nationally and through local, regional, and statewide campaigns around the country. America Saves encourages individuals to take the America Saves pledge and organizations to promote savings year-round and during America Saves Week.
Still Have Questions?
Don't hesitate to reach out to us anytime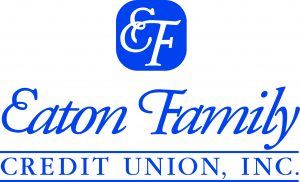 Address
333 Babbitt Road
Euclid, Ohio  44123
Email
Member@eatonfamilycu.com